Salt - Get Started: what to take and when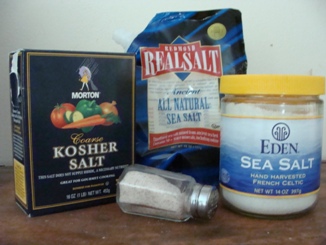 With OI, you and your body are in an unusual place. Most people are told to "watch your salt intake- keep it low". That's because it can increase the blood pressure (BP) and cause "high" blood pressure. High blood pressure is generally not desired because it can cause strokes and other things.
BUT - a person with orthostatic intolerance (OI) needs the salt - because it helps increase blood pressure and increase the volume of blood in the body!
Some people can improve their standing symptoms with their fluid intake & more salt.
If you have Orthostatic Intolerance, POTS, NMH, orthostatic hypotension, and it has been suggested that you increase your salt intake, here are some basic guidelines about how to go about it. You should talk it over with your primary care physician or health professional to see what they recommend.
---
When to take it:
Divide it up through the day.
If symptoms are worse in the morning, take more of the salt and fluids right away in the morning. Then some in the middle of the day. Take the lowest amount toward the end of the day.  
How much to take:
Add more salt to your food and add salty foods to your menu and snacks. Add up the total sodium to see if you are getting 2300 mg sodium per day.
If you are not getting 2300 mg or you are eating as much salt on your food as you can stand, then move to the next option:
a. Put some of the salt (1 tsp for the day) in water and drink it before you eat your food or in the middle of eating. Sometimes, it helps to use as little water as you need to stand the taste, then drink extra water, juice or fluids.
b. Salt tablets: Start slowly, 900(2 Thermotab tablets) or 1000 mg.( 1-1 gram salt tablet).Take with food & fluids.
Increase the amount of salt by a gram a day. Take that for about a week and see how you're doing.
Keep increasing until you reach your target amount or you notice your feet are swelling (see the tab - "What's Enough".
How to evaluate how it's going, whether it's working.
Some questions to ask yourself --

How are you feeling? Are you feeling better? Are the orthostatic symptoms "better"? "Better" would be that your orthostatic symptoms don't come as soon when you stand up. It would also be "better" if your symptoms aren't as intense as they used to be or they don't last as long.


Another way to tell if you have enough salt yet: recheck your blood pressure and pulse. Are they getting closer to "normal" when you stand up? ( "More normal blood pressure" would be a systolic (top number) BP above 100, closer to 110-120 & a diastolic (bottom number) of 80 diastolic when you stand up for 1 minute. If you have POTS, a "more normal pulse" would be under 110 when you stand for 1 minute.)
If your symptoms are better but the BP/pulse are still way off, then you might need need more salt with your fluids.
---

Remember - The goal is not to make your blood pressure & pulse normal. The goal is to improve how you feel moving around and doing things. We would look at the BP & pulse things are really still off. Usually, if they are still off, there might not be as many orthostatic symptoms but things may still be "not right" or the endurance is still off.
Keep a diary
Keep track of what you are doing to manage your OI each day and how you are feeling. It will help you understand what helps and what to adjust next.
Talk it over with your physician
:
to find out how you should add salt and increase it, what you should monitor (keep track of in your "diary") and when you should check back in.
---

Why You Need to Raise the Head of Your Bed - and How Much
---
The Basics of Taking Care Everyday
---
References
Figueroa JJ, Basford JR, Low PA. Preventing and treating orthostatic hypotension: As easy as A, B, C. Cleve Clin J Med. 2010 May;77(5):298-306. Abstract Article PDF
Freeman, Roy. Neurogenic orthostatic hypotension.NEJM 2008;358(6):615-624. Abstract
Claydon VE, Hainsworth R. Salt supplementation improves orthostatic cerebral and peripheral vascular control in patients with syncope. Hypertension. 2004 Apr;43(4):809-13. Epub 2004 Feb 23.
El-Sayed H, Hainsworth R. Salt supplementation increases plasma volume and orthostatic tolerance in patients with unexplained syncope. Heart 1996; 75:134–140.
Thieben MJ, Sandroni P, Sletten DM, et al. Postural orthostatic tachycardia syndrome: The Mayo Clinic experience. Mayo Clin Proc. 2007;82:308–313
Personal experience of author.
Wieling W, van Lieshout JJ, Hainsworth R. Extracellular fluid volume expansion in patients with posturally related syncope. Clin Auton Res 2002;12:242-9.
Recommendations on salt. UK. Consensus Action on Salt & Health. Last accessed September 10, 2012.
Rowe, Peter.General Information Brochure on Orthostatic Intolerance and Its Treatment. June 2010. Accessed from http://www.cfids.org/webinar/cfsinfo2010.pdf. Accessed May 28.2012.
U.S. Department of Agriculture, Agricultural Research Service. 2011. USDA National Nutrient Database for Standard Reference, Release 24. Nutrient Data Laboratory Home Page ,http://www.ars.usda.gov/ba/bhnrc/ndl
Low PA and Singer W. Update on Management of Neurogenic Orthostatic Hypotension. Lancet Neurol. 2008 May; 7(5): 451–458. Abstract. Article PDF.
Low PA, Sandroni P, Joyner and Shen W. Postural Tachycardia Syndrome (POTS). J Cardopvasc Electrophysiology 2009; 20:352-358. Abstract. Article PDF
Jacob G, Costa F, Shannon JR, Robertson RM et al. The Neuropathic Postural Tachycardia Syndrome. N Engl J Med 2000;343: 1008-14. Abstract. Article PDF.
Fu Q, Vangundy TB, Galbreath MM, Shibata S, Jain M, Hastings JL, Bhella PS, Levine BD. Cardiac origins of the postural orthostatic tachycardia syndrome. J Am Coll Cardiol. 2010 Jun 22;55(25):2858-68. Abstract. Article PDF
"Iodine in diet". MedlinePlus. External Link. Last accessed 09.13.2012
Dietary Supplement Fact Sheet: Iodine. Office of Dietary Supplements. National Institutes of Health. External Link. Last accessed 09.13.2012.
Institute of Medicine. Dietary Reference Intakes for Vitamin A, Vitamin K, Arsenic, Boron, Chromium, Copper, Iodine, Iron, Manganese, Molybdenum, Nickel, Silicon, Vanadium, and Zinc. National Academy Press: Washington DC, 2001. 2001. External Link
---
Author: Kay E. Jewell, MD
Page Last Updated: September 13, 2012