External Compression Garments to Control Symptoms
There are some basic things that will help your body deal with blood pressure issues. Compression garments are a fast and easy way to improve your blood pressure/blood flow and cut down your orthostatic symptoms when you are up and about doing things. You control when you put them on and when they come off!
When you have to go out and want a little extra help, these can work wonders. They help when you have an all-day outing or doctor appointments or a full-school or work day. They can add a little extra when your symptoms are bothering you a little more, when you are rebuilding your fluids or on those vulnerable days before your period (or the first days of when your symptoms are more bothersome).
---
Do compression garments actually help?
Yes, definitely. They do work if they have enough compression and you wear them!. That means they have to be somewhat tight but not too tight so that they prevent blood from getting into the abdomen and legs. But, they don't get a very positive reaction when a physician recommends them. That's because they usually recommend the full leg stocking - the "grandma stocking". No one really wants to wear them. In reality, most people don't wear them.
The good news is that there are other options for compression that work almost as well. You could say they work better because people actually wear them! They are the abdominal binders or corsets and the lower body leggings.
Abdominal Binders
Full Leg Stockings
Alternatives-Short Leg Stockings
Sport Compression Garments

Abdominal binders are a great alternative to full stockings. The vessels in the abdomen hold more blood than the legs. (They hold 20-30% of the total volume of blood in the body.) An abdominal binder can have 2/3 of the same effect or benefit as a full toe-to-waist stocking.2 Plus, they are more comfortable to wear and don't have the same issues with using the bathroom. They can be warm.

Recommended pressure:20 mmHg3
Studies have shown that 15-20 mmHg raises the standing BP about 11 mm systolic (top number). It's about the same as wearing a gravity suit, like the ones worn by fighter pilots to prevent them from fainting during jet maneuvers. Increasing the compression from the binder to 20 mmHg raises the systolic blood pressure about 17 mmHg.1

When to put it on: It should be put on before getting out of bed, while you are laying down. It should be removed when lying down.1

Where to get them and get fitted: There are abdominal binders that are available as medical devices, with a physician prescription. They are often used after a person has had surgery on their stomach/abdomen. . Either the orthotics staff, people at a surgical supply house or PT/OT staff can measure you to fit the binder and help find one that feels comfortable.

Other Options: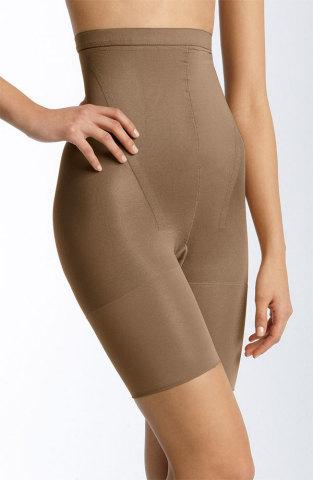 There are a number of commercial products that might help.
• Garments - abdominal corsets, leggings, tight shorts: e.g. Spanx

True, the compression stockings that are usually recommended by doctors are the Jobst stocking, which are pretty thick and tight. They do look like "grandma stockings".
The benefit:They are recommended because they work the best. The full stocking - from toe to waist - does the best job of keeping the blood from pooling in the legs and the abdomen/stomach. To work best, they should be put on before getting out of bed.
The negative: The full compression of 30-40 mmHg is the medical compression. It can be uncomfortable at times. They can get hot even in cool climates. Because they have good compression, it takes work to stretch them enough to put them on. Even if someone helps put them on, the person has to have enough strength and endurance in their hands and arms to manage them when they go to the bathroom. They definitely help but people tend to stop wearing them because they are uncomfortable and take so much work going to the bathroom.
The details:A physician usually prescribes stockings with 30-40 mmHg. It may not be necessary to have a prescription to buy stockings with this much compression, however, having a prescription may help get the stockings paid for by insurance. It may be required if IRS will accept the stockings as medical products that would be medical expenses.
Measurements need to be made of your legs to identify the appropriate size. The measurements can be done by the physician or office staff. In some clinics, there are staff who work in Orthotics. They are expertise in compression garments and do the fitting.
---
Option 1:Dr. Rowe suggests starting with a lower compression stocking, for example 20-30 mmHg. These might be more comfortable and easier to work with.4
Option 2: Try different brands. Dr. Rowe suggest Ultra-Sheer hosiery. One of his patients recommends Under Armor, specifically Women's UA Coldgear Compression Vivid Tight. These are very warm, which has its advantage when limbs get cold.
Option 3: Combine a thigh/abdominal garment with knee highs.
---
There are a number of websites that sell stockings.4
Option 1: If you chose to wear an abdominal binder/corset, you can get more help with your orthostatic symptoms if you also wear knee-high support stockings. For knee-high stockings, it's important that they are not too tight at the top, just below the knees. If they are too tight, it can be like wearing a tight rubber band around your leg. This would cut off circulation, keep the blood in the calf and not help move it out and up to the heart. It could lead to other problems, like blood clots in the calves of the leg.
The details:Compression stockings come in different amounts of compression. The pressure usually prescribed is 30-40 mmHg. The usual support stocking in the store is around 8-15 mm Hg at best.
There are also stockings with moderate compression - 15-20 mm Hg and with more compression at 20-30 mmHg of compression which are used for moderate problems like swelling in the feet, varicose veins, after surgery and after healing of ulcers of the leg. Talk with your physician about writing a prescription. (Insurance often covers the full-leg stockings. Check with them about covering the short leg ones).
Option 2: If you chose to wear an abdominal binder/corset, you can get more help with your orthostatic symptoms if you also wear thigh-high stockings. Same issues as with the knee-high stockings.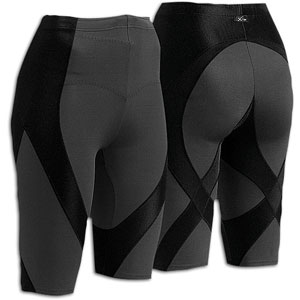 Many athletes are wearing compression garments, to help them with recovery from activities. They come in different strengths of compression. You can get full body suits, half-body suits, long-legged shorts, short-legged shorts, socks and so on, you get the picture. These might be helpful.4
Examples:
Zoot Sports: Women's Men's
Under Armour Compression Garments Recharge Energy Suit
The sports garments may do a better job of wicking moisture out and away from your skin if you do get warm and sweaty when you wear them.
You do not need a physician prescription for these. Insurance probably does not cover them, they are "sports clothes".
Comments; Dr. Rowe recommends just the lower body part of the two-piece Recharge Suit that Under Armour makes.4

Finding the Right Fabric

Tricks to Avoid Getting Dizzy
---
The Basics of Taking Care Everyday
---
References
Figueroa JJ, Basford JR, Low PA. Preventing and treating orthostatic hypotension: As easy as A, B, C. Cleve Clin J Med. 2010 May;77(5):298-306. Abstract. Article PDF.
Low PA and Singer W. Update on Management of Neurogenic Orthostatic Hypotension. Lancet Neurol. 2008 May; 7(5): 451–458. Abstract. Article PDF.
Smit AA, Wieling W, Fujimura J, et al. Use of lower abdominal compression to combat orthostatic hypotension in patients with autonomic dysfunction. Clin Auton Res 2004;14:167-75. Abstract.
Rowe, Peter. Compression Garments handout.
Author: Kay E. Jewell, MD
Page Last Updated: May 31, 2012