Types of POTS
The classifications for POTS, autonomic nervous system conditions and syncope have been evolving over recent years as more is learned about orthostatic conditions like POTS and OH/NMH.
We will use the classifications that make it easier to understand the differences in symptoms and treatment, when it is known or understood.1,2
POTS is a heterogeneous condition and population. That means that people who have it all meet the basic criteria to be diagnosed with POTS and they have similar orthostatic symptoms but there are other ways they are very different. It developed after different triggers, which could mean the cause is different. Not everyone has the same test results. Not everyone responds the same to the management or the medications.
POTS can be divided into 2 different groups based on whether it has developed by itself (primary) or whether there is another medical condition that is known to cause autonomic nervous system failure, like POTS (secondary).
There is one subtype that can be identified by lab test results, hyperadrenergic POTS. There is a limited amount of information about that group.
So far, researchers like Dr. Stewart, have taken the information about the differences in test results, what started the condition or other differences to come up with a way to separate the information into "types" or "subtypes" but the information is more useful for research right now. It doesn't have enough information to help tell who will respond best to the different medications.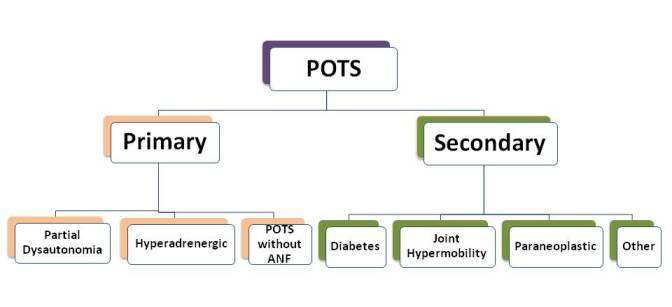 ---
Primary POTS
Hyperadrenergic POTS or β-hypersensitivity
Secondary POTS
POTS with Deconditioning
Postural Orthostatic Tachycardia Syndrome (POTS)
---
References
Grubb BP. Postural tachycardia syndrome. Circulation. 2008;117:2814–2817. Abstract. Article PDF.
Medow MS, Stewart JM, Sanyal S, Mumtaz A, Stca D and Frishman WH. Pathophysiology, Diagnosis, and Treatment of Orthostatic Hypotension and Vasovagal Syncope. Cardiology in Review 2008;16(1):4-20. Abstract
Thieben MJ, Sandroni P, Sletten DM, et al. Postural orthostatic tachycardia syndrome: The Mayo Clinic experience. Mayo Clin Proc. 2007;82:308–313. Abstract.
Stewart JM. Chronic orthostatic intolerance and the postural tachycardia syndrome (POTS). J Pediatr. 2004;145:725–730. Article PDF
Stewart JM, Medow MS, Alejos JC. Orthostatic Intolerance.2011. Medscape article.
Low PA, Sandroni P, Joyner and Shen W. Postural Tachycardia Syndrome (POTS). J Cardopvasc Electrophysiology 2009; 20:352-358. Abstract. Article PDF
Jordan J, Shannon JR, Diedrich A, Black BK, Robertson D: Increased sympathetic activation in idiopathic orthostatic intolerance: Role of systemic adrenoreceptor sensitivity. Hypertension 2002;39:173- 178. Abstract. Article PDF.
Joyner Michael J, Masuki Shizue. POTS versus deconditioning: the same or different? Clin Auton Res. 2008 Dec;18(6):300-7. Epub 2008 Aug 12. Abstract.
Tank J, Baevsky RM, Funtova II, Diedrich A, Slepchenkova IN, Jordan J Orthostatic heart rate responses after prolonged space flights. Clin Auton Res.  2011 Apr;21(2):121-4. Epub 2010 Dec 25. Abstract
Johnson JN, Mack KJ, Kuntz NL, Brands CK, Porter CJ and Fischer PR. Postural Orthostatic Tachycardia Syndrome: A Clinical Review. Pediatr Neuro 2010; 42:77-85. Abstract.
Grubb BP, Karabin B. Cardiology patient page. Postural tachycardia syndrome: Perspectives for patients. Circulation. 2008;118:e61–e62. Abstract. Article PDF.
Burkhardt BE, Pianosi PT, Brands CK, Porter CJ, Weaver AL, Fischer PR. Heart rate response to exercise in adolescents with autonomic dysfunction. Clin Autonom Res. 2007;17:266
Author: Kay E. Jewell, MD
Page Last Updated: June 22, 2012